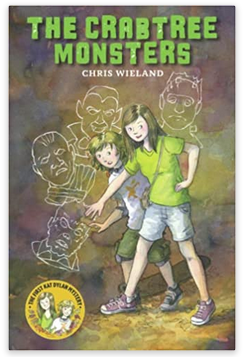 I am excited to announce the upcoming launch of our book "The Crabtree Monsters" by Chris Wieland, on May 12. It is a 384 page Middle Grades chapter book starring the 13 yr old feisty protagonist, Kat, and her grade school brother Alec. They have just moved from big city Los Angeles, to a small town in Michigan to live with their eccentric Grandpa Nick while their parents are away.
Kat is NOT looking forward to the upcoming school year in such a tiny place. All she wants to do is get out.
Suddenly their supposedly boring restrictive lives are turned upside down when they are party to a hold up at the local bank. The mysterious robbers are clad in suits and ties, with rubber monster masks: Frankenstein, Dracula, Wolfman and the Mummy!
Are these the same thieves who have been hitting all the local towns? Why the monster masks? And why do they steal the wallets of kids? Kat and Alec are not only stuck in the boonies now, they are penniless.
Kat is determined to get to the bottom of this. Especially when a medallion dropped by the robbers during the heist turns out to be similar to that of her Police Chief grandfather, given to him when he worked in a different police department in the past.
Does their grandfather have something to do with the robbers? Is he being framed or is he actually guilty?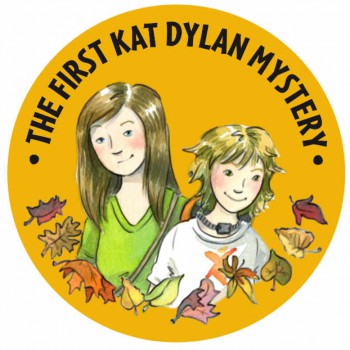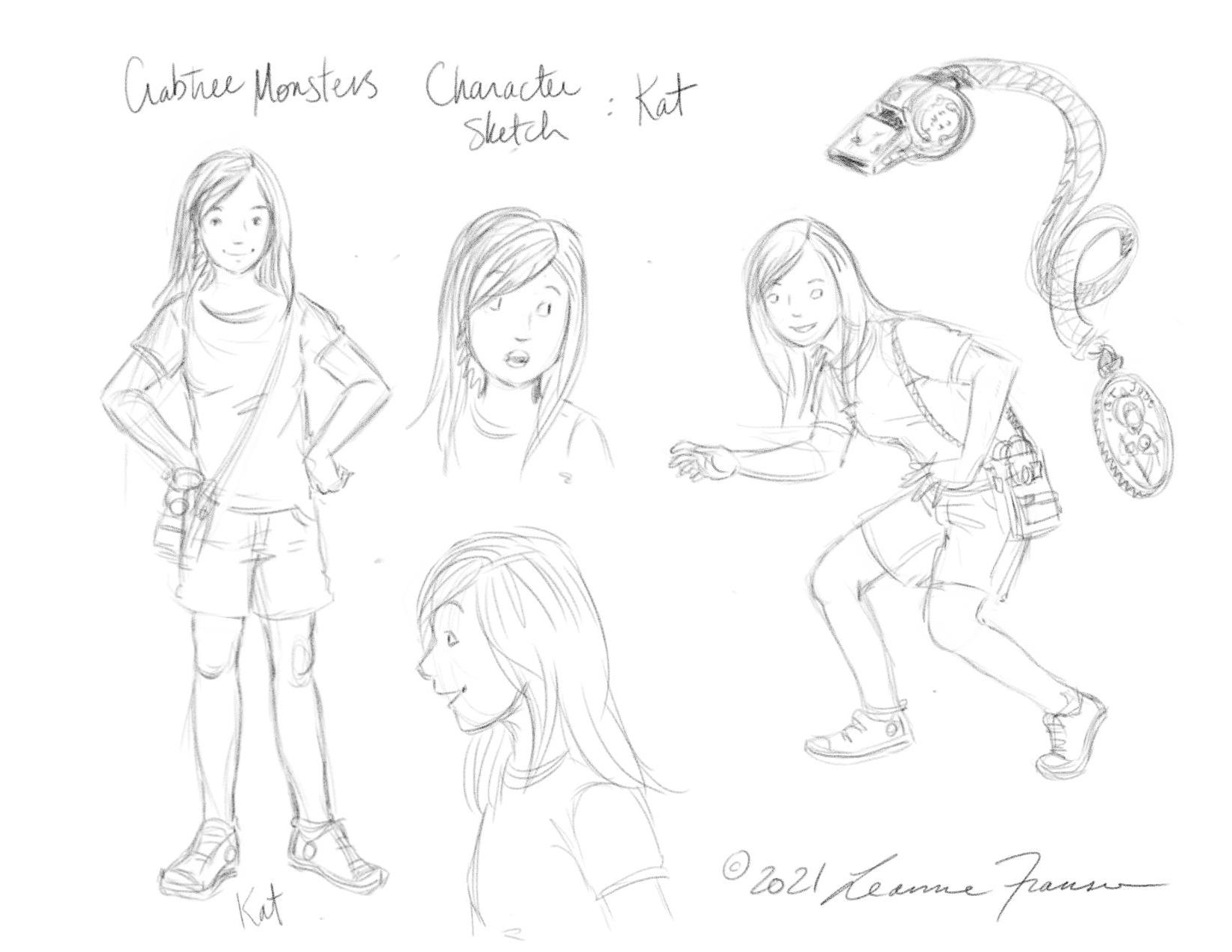 Seeking to find out, Kat pulls out all stops, stealing a car, befriending the local detective's son, driving madly through the warehouse district. She and Alec spend more than one night in jail. How will that go over with their classmates in their new school? Will they exonerate their Grandpa Nick? Or is he part of the Monster Gang?
I illustrated both the cover and the book logo. This is the first book in a series of five, as Kat grows up and finishes Middle School. The cover and logo both have a back to school fall theme and colouring, and follow up books will be different seasons.
I tried to get Kat's daring and independence in her expression and pose, as well as the protectiveness she feels towards her asthmatic brother, Alec. I first research photos of the age of character I will be drawing, and then loosely base their looks on the photos. At that point, when I have become familiar with them, I draw them in various poses based on the book's adventures. You can see the pencil sketches of Kat and the medallion above.
We go through many iterations of the cover, playing around with the composition and elements. Our wonderful designer, David Robson, works in collaboration with the writer, Chris, and myself. He is in charge of the text font, colour, placement, as well as designing the logo and where it will go on the cover. He takes my final colour illustrations and turn them into the amazing book cover you see featured above.
To the right, you will see the final illustration that I submitted to David, with a more flat patterned background where the title will appear, and highlights lighting Kat and Alec, as well as the leaves where they stand.
I put a hint of the Crabtree Monsters as simple line drawings of their rubber masks. They are on another layer in the document, which enabled David to adjust the colour from black to white, to provide more contrast, and tie in with the lettering.
Finally, different layouts for the series logo were tried, put together with my character vignettes and an arc of fall leaves. We looked for a logo that would fit well on the overall book cover, and be flexible enough to adapt to the next books in the series.
As well as the book cover and logo, I also drew small spot illustrations for the chapter headings.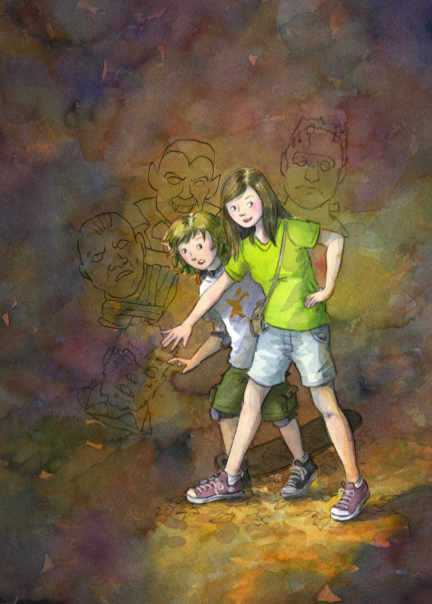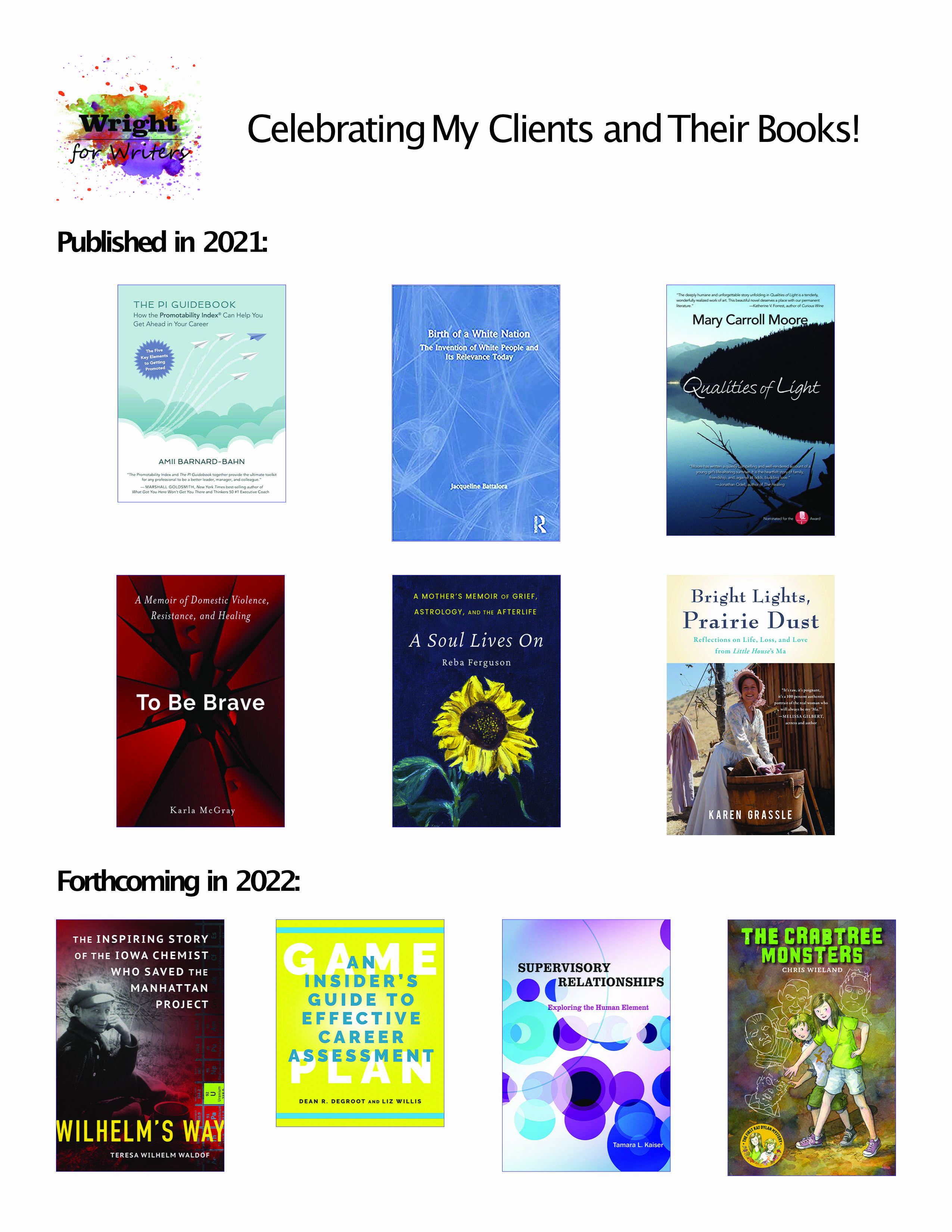 I do hope that you will check out our new book. It IS for middle school students, but I feel it would appeal to younger accomplished readers as well. As a middle-aged adult, I found it engaging, and I fell in love with Kat's stubborn, resilient, straight-forward demeanor.
"The Crabtree Monsters" is available for preorder from Amazon.com, Amazon.ca and Barnes and Noble among others. Or you can wait to purchase it at your local bookshop, as it is being distributed now.
I do hope your kids will love it, whether family, friends, students, or acquaintances